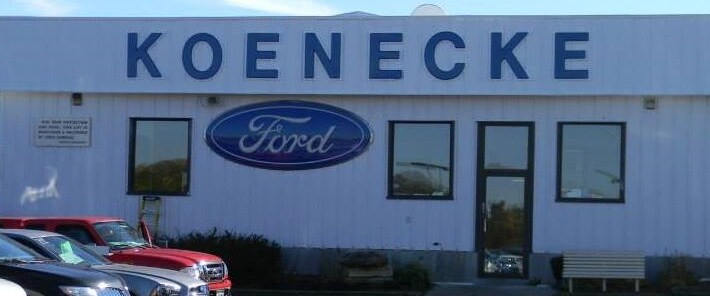 Come Celebrate 33 years on Highway 33 with Koenecke Ford!

Koenecke Ford is celebrating 33 years of business on Highway 33, and would love to have you come celebrate with us!  If you purchase your vehicle at Koenecke Ford in the month of October you will be helping a local cause as well. For every vehicle sold in the month of October Koenecke Ford will donate $33 to Safe Harbor Homeless Shelter. So if you are in the market for a new or pre-owned vehicle, stop over to Koenecke Ford.
Reedsburg was the home of the first Ford Franchise in the state of Wisconsin back on May 1st, 1910, and remains to be one of the oldest in the country. Marty Koenecke purchased the franchise after the original dealership owned by Frank Metcalf, William Townsend, Clark Townsend, and William Kinney closed its doors in the early 80's. Marty then moved the dealership from the original location on the northeast corner of Main and Park to a former farm field on Highway 33 and Twin Pine Road where it sits today. Koenecke's able to offer superior deals as a result of their low overhead, but they offer something most dealerships don't.  A low pressure experience filled with country hospitality and charm. They genuinely care about their employees, customers, and the community.
Safe Harbor Shelter provides temporary shelter to women and children. Their mission is to empower their residents to become confident, independent, stable, and productive members of Sauk County. They are currently at capacity serving 26 women and 29 children, and rely on the cooperation and assistance from churches, businesses, organizations, and individuals in order to provide shelter, food, clothing, and supplies.  The current cost to provide these supplies and services breaks down to $171 per day. Koenecke Ford would love to help support Safe Harbor's mission. 
Koenecke Ford is looking forward to celebrating their anniversary with you, and donating $33 per vehicle sale to this wonderful cause. We look forward to providing exceptional service and quality vehicles as your Neighborhood Ford Dealer for many years to come!